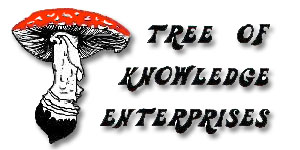 Tree of Knowledge is a computer consulting firm, founded in Boston in 1977 and moved to Southern California in 1980. We provide hardware and software sales and support, custom programming, and Internet services. We are also associated with other graphic, networking and Internet service companies to provide full service for all your computer needs. Also, we are engaged in a number of musical activities, notably sound engineering and promotion.
This site also reflects my tastes, interests, and views, so besides computers, you'll find a variety of subjects, from photography to music to art and philosophy. It's also peppered with quotes from those I admire most. (It's an eclectic group.) Click below to go to a specific section. We welcome your comments and input.
Bob Mutascio, President

 "In the province of the mind, what one believes to be true is true or 
   becomes true, within certain limits to be found experientially and  
   experimentally. These limits are further beliefs to be transcended. 
   In the mind, there are no limits."		 John Lilly

Our mailing address is: 2554 Lincoln Blvd, Suite #1055, Venice, CA 90291
Contact me by E-Mail at bobm@treeofknowledge.com
if you would like to be notified of changes to our site, or
to send me feedback on the site.
(Click on the Tree of Knowledge logo above for the origin of our name and logo.)
Web site designed by Bob Mutascio of Tree of Knowledge
� 1995-2020 Tree of Knowledge Enterprises